Just a reminder to everyone that the first Tuesday, Wednesday and Friday regular sessions for the year are all to be run as a scramble, i.e. A draw will be made for partners from those present at start time. So bring a partner if you wish, but it is unlikely that is who you'll get to play with.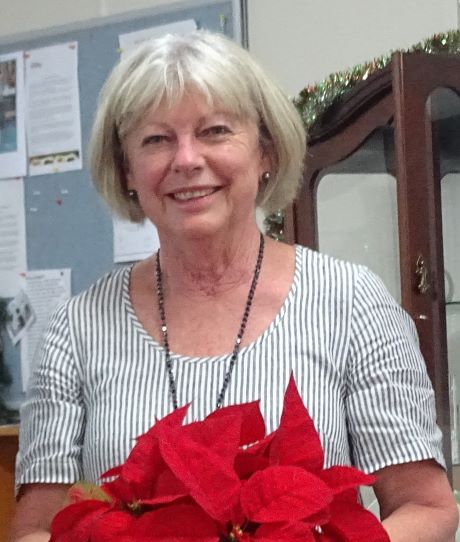 We had our AGM last Friday 29th November 2019 at which Alison Snell was elected as your President for 2020.  Congratulations Ali , I'm sure you will make a fine President and enjoy working with the awesome team you have.
Other Officers elected were :
Vice President - Nick Cantlon
A great day for all participants on Saturday. It may be remembered as the Christmas Party when the power went off for 3 hours in the middle of the day but both our catering committee and our director remained cool and collected and everything ran to time. Great work.
Kate and Kevin celebrate their win.
The final round in the regional Intermediate league was held at Cambridge last Sunday.  Players have competed over 8 tournaments around the region and gain points for participating and for performance at each event.
Somewhat belatedly here are some highlights from the 2019 Cambridge 6s.  Each of the 42 teams competing comprised 2 open players, 2 intermediate and 2 junior. We are a bit short of open players so some of us played up. The 3 teams dressed up around the theme of Deckades. We had the 1920s Flappers in dresses made by Kate, the 1950s Nora Batty's Buddies and the 1970s Hippies. See photos in the Gallery. 
3 teams of 6,- that's right  18 of us -  headed to the Don Rowlands Centre on Saturday for a day of bridge and fun. 
See photos under the "Gallery" Menu item or here.  More details of how we did will follow. 
For 10 weeks Hazel Anwell, Karolyn Taylor, Les James, Doug Atkinson, Bruce Taylor and Nick Saunders have all been attending bridge beginner lessons under the able tutorage of Sally Whitaker assisted by Helen Smith and myself.  They were joined by Lynley McDonald who learned a couple of years ago but has been unable to play at the club and wanted to redo the lessons.  Christine, Anthea, Roger and Vicki have also attended some lessons to refresh the basics of the game.
Back in 2002 a young schoolboy, Blair Fisher, attended this club's bridge lessons with Bruce Owen.  Petsy Ralph, Betty Bourne and myself were fellow learners and can remember that  Blair had very good card sense from the beginning and soon developed into a very good player.  While the rest of the class has given up on bridge or are languishing in the lower ranks of players, Blair has climbed the ladder to the very highest level - Gold Grand Master.  
There have been two articles in national newspapers lately encouraging people to take up bridge.
This one first appeared in the Taupo times and was republished in the NZ Herald.  Follow this link the article.  Taupo Bridge Club Lessons
The second article in the Taranaki Daily News features a High School student encouraging her peers to learn bridge
Contact Info
Snail mail: PO Box 538
Te Awamutu 3800
Tel: (07) 871 7441
tabridge@yahoo.com